Big Sea Trout – Attempt No 3 (River Spey, Scotland)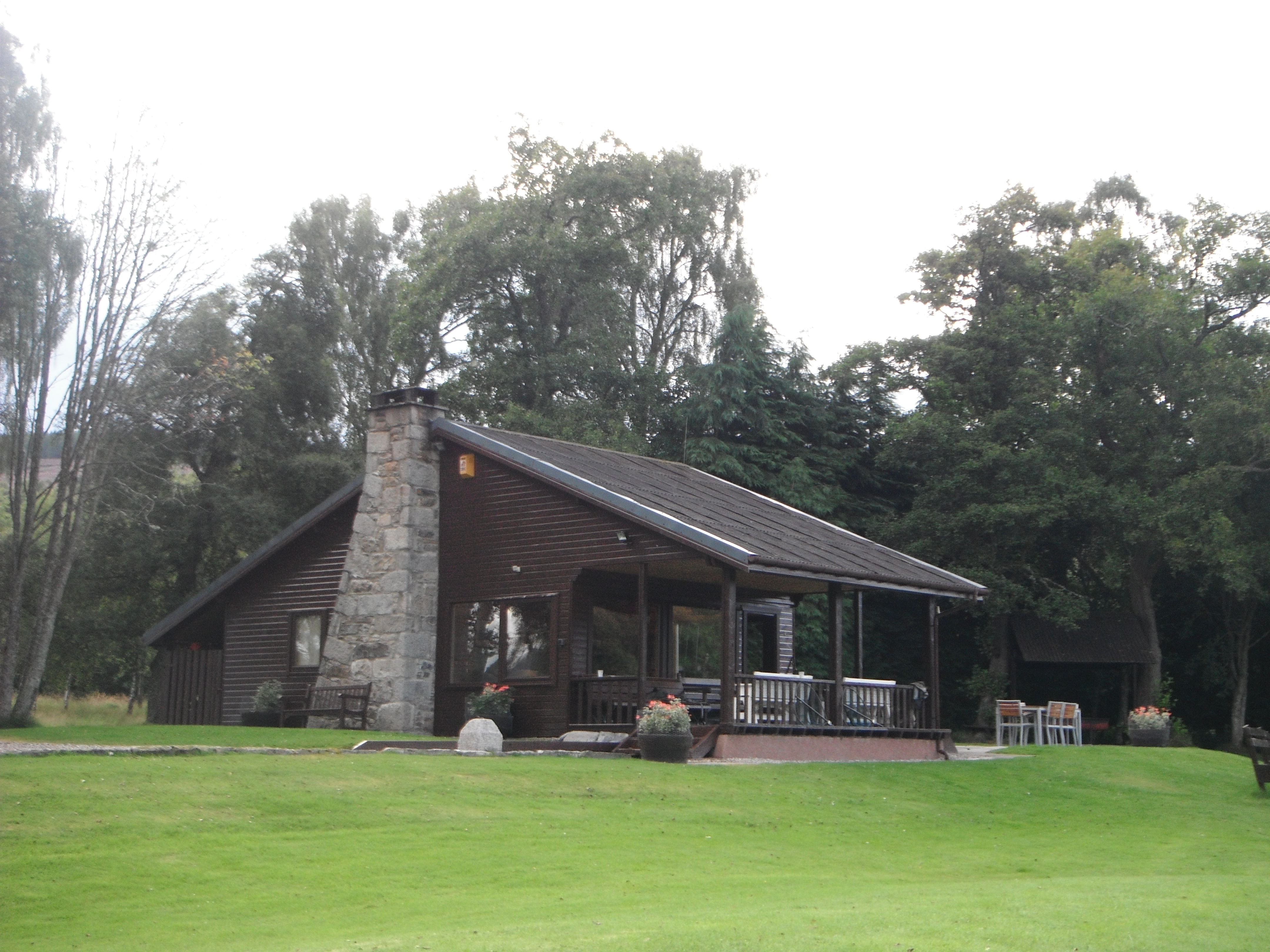 I turned 40 this year and decided to spoil myself with a salmon fishing trip to Scotland and fish the River Spey; at a good time when fish are most likely to be in the river. Far from cheap, but it's a long way to travel to a washed out dirty spate river with no, or only skulking, fish in it.
I've fished the Spey a few times on a beat owned by an old flatmate so I know Spey valley is a magical fishing setting. My best man and a good mate also signed up with me for three days on Tulchan Estate's stretch and after a 6 hour schlep of a drive we arrive Sunday evening to have a nosey at the beat ready for tomorrow. The river looks mega, right on summer levels and there are quite a few fish showing. It's a big old river though at Tulchan, with pools of over 100 yards in length and even with manicured banks it's going to be mainly spey casting, not my strongest point...
There's a group of about 40 Red deer in the field in front of our cottage as the mist starts to lift first thing in the morning, which sets the scene nicely for our first day.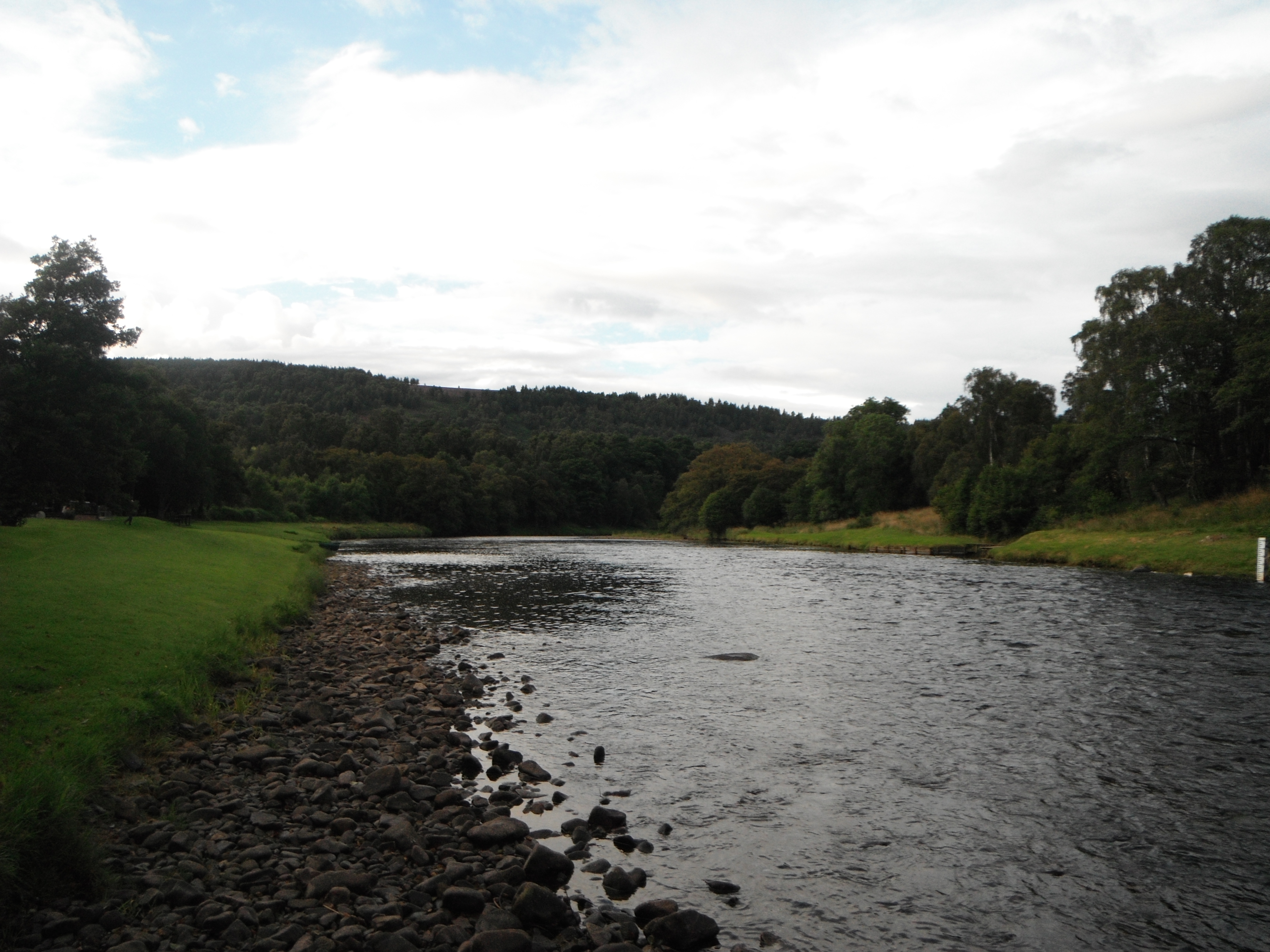 Rob the ghillie and all round top man recommends smaller flies of size 8 or less because the water is clear and could do with a few more inches on the gauge. I opt for a 5ft sinking tip on a full floater Rio Windcutter line, with 8-9ft of 12lbs fluorocarbon leader and a size 8(ish) Medicine double.
After following my mate Damian across a fording point to a lower pool my left handed single spey cast is going out surprisingly well. Only 45 mins in and would you believe that it's a take on the Medicine and after a really good 10 minute scrap Damian does the honours with a nice grilse of about 4-5lbs....
What a start (!) and nearly a full three days to go.
It does get tougher though, particularly once the sun makes it's way higher in the sky and only 4 small suicidal brownies are caught by Damian up to tea, with Allan and I blanking, despite some furious casting. I've also brought a 7 wt single handed rod with me and have been itching to see if north country spiders can work to nick out a sea trout following my successes on a recent trip to the Hodder.
I'm on a pool with a good glassy tail in the evening and literally sprint through it with the salmon rod to give myself an hour before and after dusk to work through my favourite trio of spiders. First cast brings a parr, then another; and another; and another....
I'm just starting to think it's a method doomed to failure by spratt attack when there's a thudding take and all hell breaks loose. I'm on a 5lb shop bought leader, thankfully mono with a bit of stretch, which means that I'm as careful as I can be to steer the fish upstream and let the lactic acid build up, while I edge down the pool to where the net is kept on this beat. Finally I get the fish to the surface and get some air in it's lungs which ends the fight pretty quickly. Nice sea trout of 3lbs, a new PB. Quick photo and she's returned.
Next cast and would you believe it I'm into another. Again it's not easy to control a fresh sea trout on the light outfit but the give in my Hardy Angel (Ignore the negative chat about these rods, they are simply brilliant for river and reservoir fishing) absorbs lunge after lunge until I've bagged a matching pair, another sea trout of 3lbs.
It's getting dark now and the midges are hitting real form, literally 5ft wide clouds on the bank which pushed me out further into the pool to avoid being eaten alive. I contemplate packing in because I've stupidly brought no repellent but can't resist a few more casts into the tail from the bend of the pool. It proves a good choice because about five casts later there is a REALLY solid take followed by a large fish just holding in the current. I can't put enough pressure on to force it up river but after a tense 2-3 minutes it wakes up with a 40 yard run towards the far bank - must be a salmon and I'm starting to regret fishing with effectively a reservoir Rainbow Trout strength leader. Two more big runs follow before I manage to gently coax the fish into a back eddy for 5 minutes of nerve jangling circling round my legs with the rod held as far as possible above my head to maintain tension. Finally, I see some white belly and a lunge with the net produces a big surprise, it's a clonking male sea trout of over 4lbs. A quick weigh in the net shows him to be 4.5 lbs and a new PB by a mile. Happy days!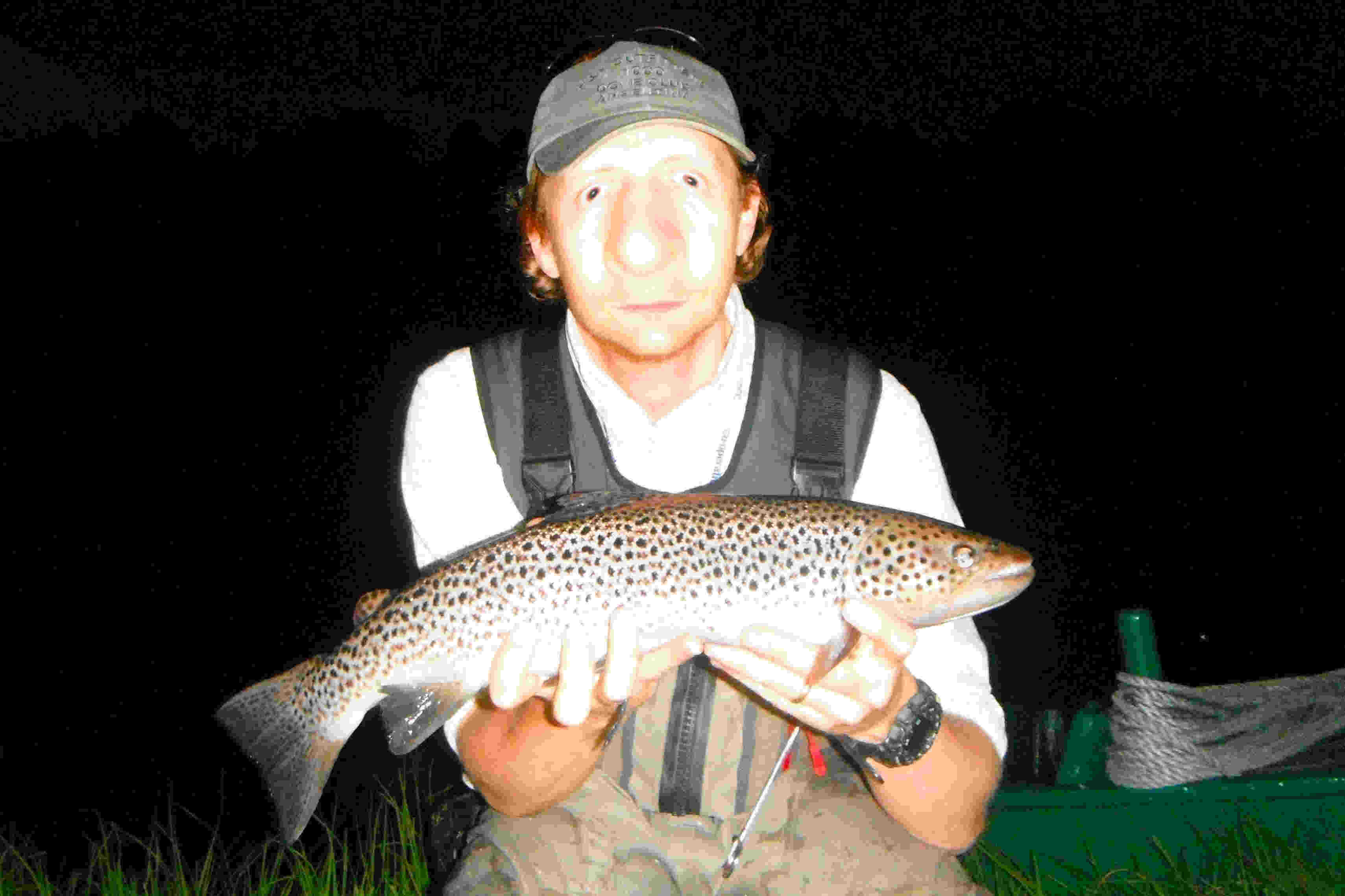 Day two produces two more sea trout to spider patterns - Oliver Edwards DVD on this method of fishing deserves a big plug from me because apart from being a magical way of covering the water, I now have PB river brown and sea trout about three weeks apart to the method. Today, I lose one and bag two sea trout in the middle of the day using the dream team of Stewarts Spider; Waterhen Bloah and Hares Lug and Plover. Biggest one goes 4lbs and it's turning into some trip, though I did then manage to wrap a shocking spey cast round my head with the leader going three times round my face and the fly sticking in my hat!
Oh, a last day switch to a size 12 treble (my best man has lost two at the net both hooked on tiny treble Monroe Killers) Silver Stoats Tail gives this tiddler to finish the trip....
10.5lbs and within a smidgeon (0.5lbs) of another PB. Maybe I should stick to game fishing - 10lbs salmon on the fly no problem (!) but I still can't catch a 5lbs plus Tench for love or money!
Cheers
Mr Fish